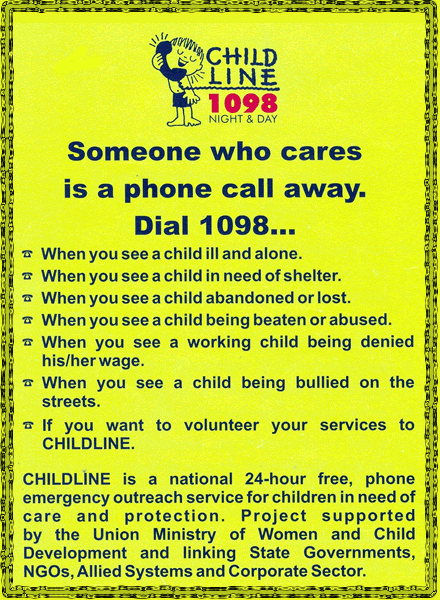 The Government of India launched CHILDLINE Service during the year 1998-99. CHILDLINE is the nation's first 24-hour toll-free emergency outreach service for children in need of care and protection. It provides emergency assistance to children and then links them to long-term services for their care and rehabilitation. Any child/concerned adult on behalf of the child can dial 1098 and access the CHILDLINE service any time of the day or night.
CHILDLINE is a project supported by the Union Ministry of Women and Child Development and linking state Governments, NGOs, bilateral/multilateral agency and corporate sector. As of March 2013, total of 27 Million calls since inception have been serviced by CHIDLINE service and operates in 291 cities/districts in 30 states and UTs through its network of 540 partner organizations across India.
CHILDLINE India Foundation (CIF) established on 28th May, 1999 is the nodal agency of the Union Ministry of Women and Child Development acting as the parent organization for setting up, managing and monitoring of service delivery and finance, training, research and documentation, creating awareness, advocacy as well as resource generation for the CHILDLINE 1098 service all over the country. CIF also functions as a national centre for awareness, advocacy and training on issues related to child protection.
CHILDLINE works for the protection of the rights of all children 0-18 years of age. But the special focus is on all children in need of care and protection, especially the more vulnerable sections, which include:
Street children and youth living alone on the streets.
Child labourers working in the unorganized and organized sectors.
Domestic help, especially girl domestics.
Children affected by physical/sexual/emotional abuse in the family, schools or institutions.
Children who need emotional support and guidance.
Children of commercial sex workers.
Child victims of the flesh trade.
Victims of child trafficking.
Children abandoned by parents or guardians.
Missing children.
Runaway children.
Children who are victims of substance abuse
Differently-abled children
Children in conflict with the law.
Children in institutions.
Mentally challenged children.
HIV/AIDS infected children
Children affected by conflict and disaster.
Child political refugees.
Children whose families are in crises.
The basic objectives of the CHILDLINE service are as follows:
To reach out to every child in need of care and protection by responding to emergencies on 1098.
To provide a platform of networking amongst organizations and to provide linkages to support systems that facilitates the rehabilitation of children in need of care and protection.
To work together with the Allied Systems (Police, Health Care, Juvenile Justice, Transport, Legal, Education, Communication, Media, Political and the Community) to create child friendly systems.
To provide an opportunity to public to respond to the needs of children in difficult circumstances.
CHILDLINE IN ACTION
"CHILDLINE"
The CHILDLINE team receives & responds to the calls
Crisis Intervention
Direct assistance: medical, shelter, protection from abuse, repatriation, death, missing children, intensive counseling.
On phone: Emotional support and guidance, information and referral to services for the caller, information about CHILDLINE.
Long-term rehabilitation
After the emergency needs of the child have been addressed, CHILDLINE explores options with the child to study, learn a trade, go back home etc. Based on the decision of the child, CHILDLINE links the child to an appropriate organization in the city.
CHILDLINE 1098 in Aizawl
CHILDLINE project was started in April, 2011 in Aizawl through Centre for Peace and Development (CPD). CPD is the collaborative organization of CHILDLINE which covers Aizawl district. Besides responding to 1098 emergency calls, CHILDLINE carries out advocacy, organizing workshops, Outreach/Awareness programme and Open house for Children.
CHILDLINE 1098 Service is now available to the children of Mizoram and has been launched by CHILDLINE India Foundation in collaboration with SWD, State Child Protection Society (SCPS) and Centre for Peace and Development (CPD). CHILDLINE service backed with a team of professionals respond to the issues of children in distress.
For more information please dial 1098 or visit www.childlineindia.org.in